This recipe is rooted in the numerous times that I have eaten chicken biscuits out at restaurants, the fried chicken my wife makes that I can't get enough of, and the buttermilk biscuits that I make at home that have become a staple of our household.  I started making my own biscuits at home from scratch about year a go and I now could never imagine buying canned biscuits ever again.   Now I can't take full credit for this recipe.  The fried chicken portion of this recipe belongs to my wife.  "What's yours is mine and what's mine is yours" doesn't apply in this case for my wife and I haha.
I am posting this recipe as a part of Black Food Bloggers Club's Black History Month Potluck.  Myself and 27 other food bloggers are sharing recipes that we feel would be a part of a legendary potluck.  You can the links to the rest of the recipes at the bottom of my post.
While I did not create the chicken biscuit (Chick-fil-a claims that) I have definitely stepped it up a notch.  The fried chicken biscuit is nothing new; you can find it on the breakfast menus of many restaurants and fast food shops.  One of my favorite restaurants here in town for brunch, Willa Jean, has a fried chicken biscuit that is so good that it led me to start making them at home.  And it all starts with scratch made biscuit dough.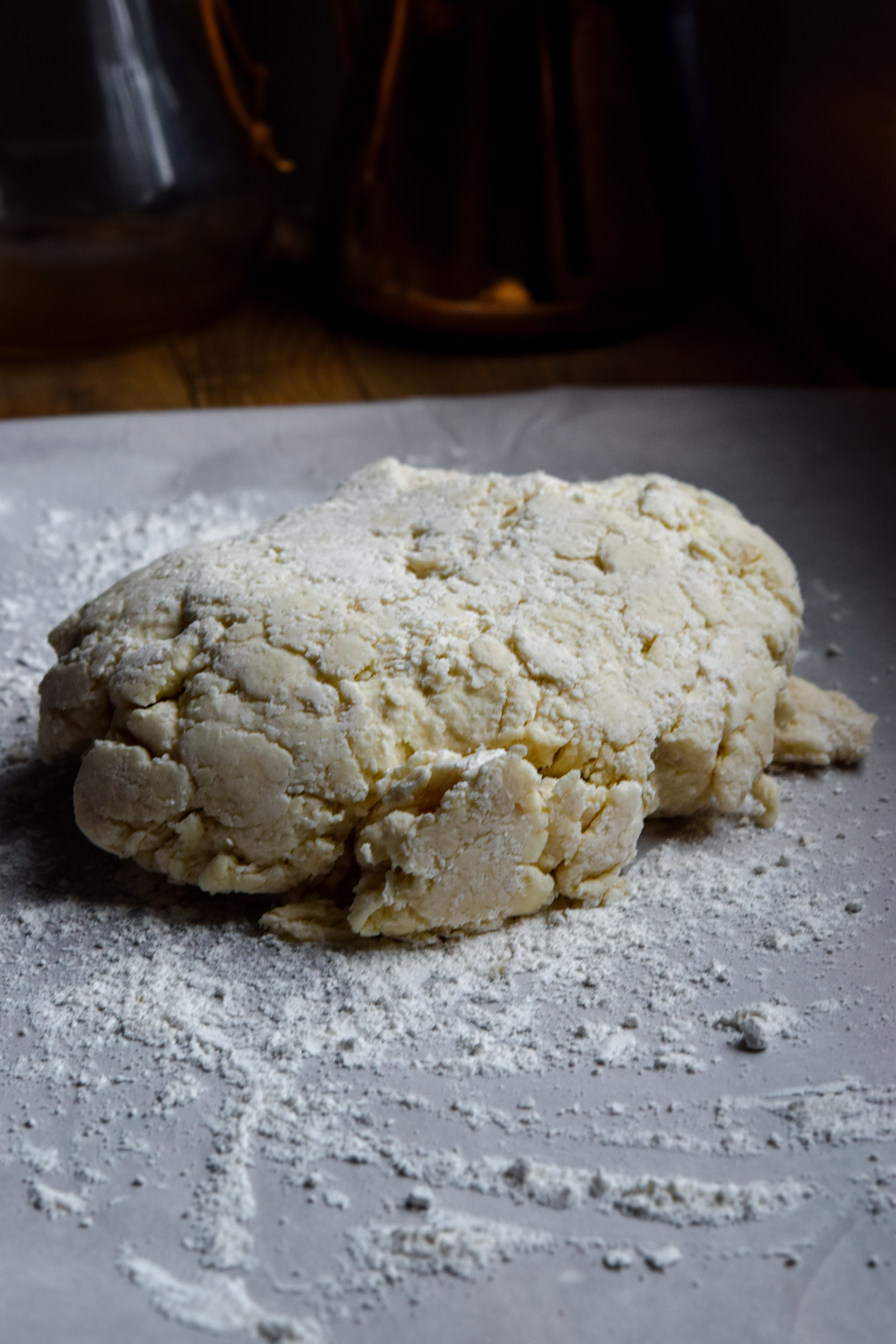 There's a big misconception by many, probably because most see me cooking so much on Instagram, that my wife cannot cook.  That is the furthest bit from the truth; in all fairness my wife cooks many things better than I do.  That includes frying things like chicken.  We are always looking for things that we can do together and making brunch together in our kitchen has become one of our favorite things to do, even though there are many times I'm sure she wants to strangle me.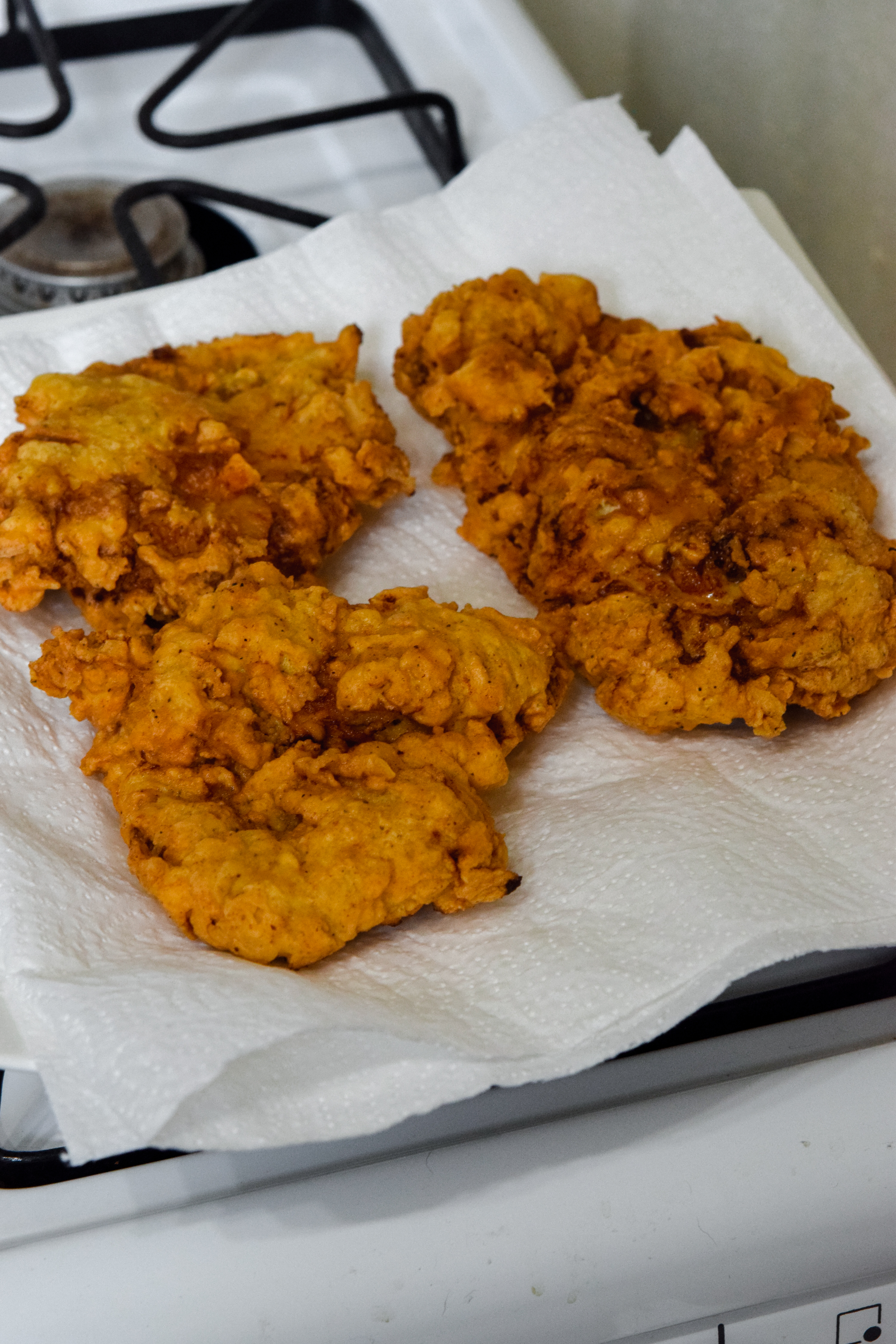 Last Easter my wife and I decided that it would be nice to give little gift baskets to some of our neighbors that we are close to.  What we ended up doing was giving them baskets with frozen biscuits that I had made a couple days before Easter so that they could enjoy them on Easter morning.  It was something that I see us doing for the rest of our lives.  Our neighbors loved it, and we loved doing it for them.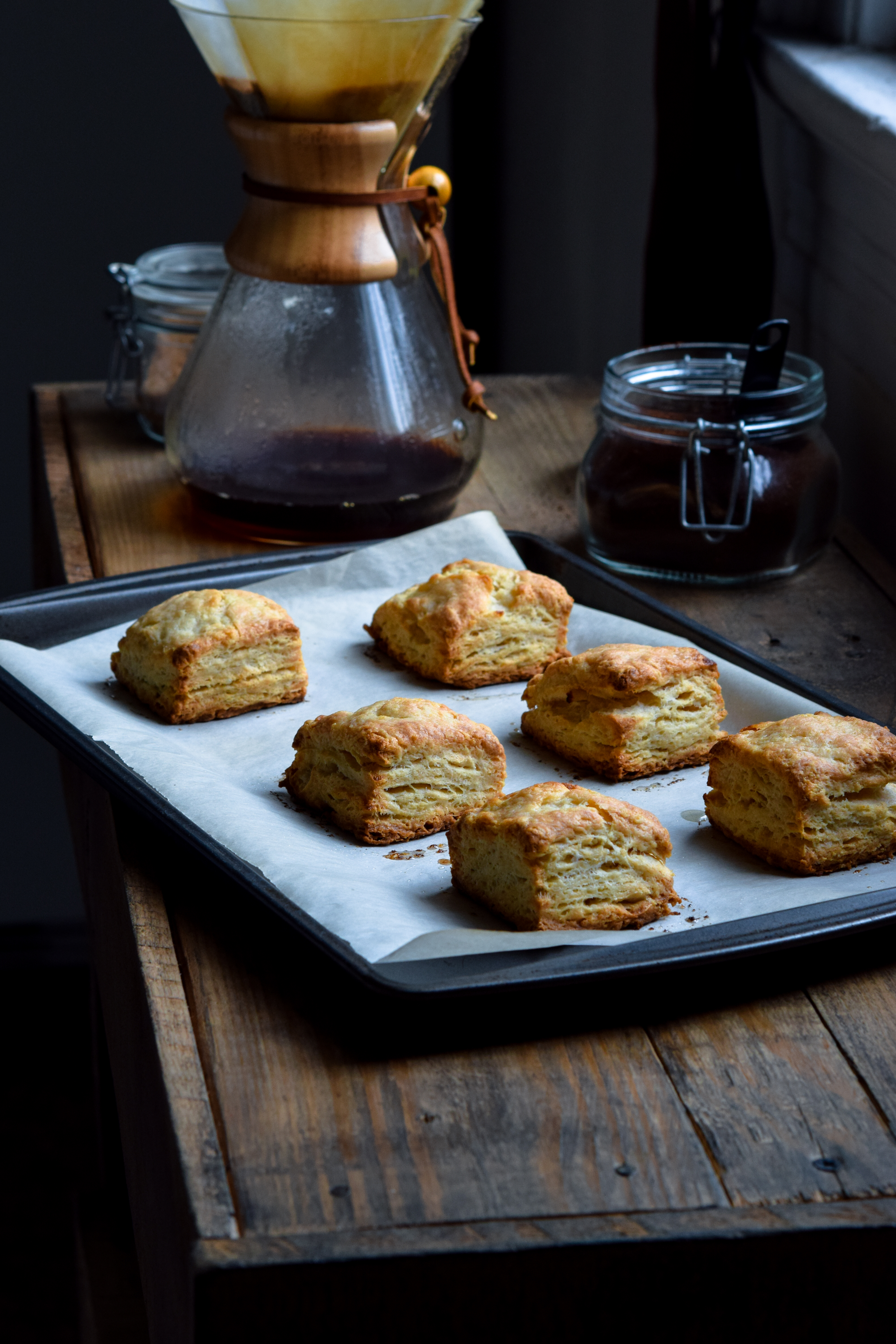 Buttermilk Biscuits with Fried Chicken and Tabasco Honey
Yield 4 servings
Ingredients
Biscuits
3 1/2 cups flour
1 1/4 cup buttermilk
1 cup unsalted butter
1/2 tsp baking soda
2 1/2 tsp baking powder
2 tsp koser salt
4 tsp sugar
Fried Chicken
1  lb boneless skinless chicken breasts
3 cups of flour
2 tsp seasoning salt
3 tsp black pepper
1 1/2 cups buttermilk
4 tbsp Louisiana Hot Sauce
2 eggs
Tabasco Honey
1/2 cup honey
1 tbsp Tabasco
Instructions
Cube butter into half inch pieces and place it in the freezer for 10 minutes.  While the butter is in the freezer mix together the flour, salt, sugar, baking powder, and baking soda.
With a pastry cutter, fork, or your hands mix the butter into the dry ingredients.  Mix until your dough gets to the points where there is large excess of dry flour remaining.
Pour in about a cup of the buttermilk and begin to mix it (by hand) into the dry ingredients.  Add the additional 1/4 cup of buttermilk as needed until there is no dry flour left.  Work the dough into a ball and place it onto a floured surface.
Roll/pat the dough out into a square about 1" thick.  Cut the square into four pieces and stack them on top of each other.  Again roll/pat the dough into a square about 1" thick.
Cut out your biscuits and transfer them into the freezer to firm up for about 15 minutes.  Preheat oven to 425 F.
Remove biscuits from the freezer and rub the tops of them with melted butter.  Place them into the oven and bake for 22-25 minutes.
In a medium sized mixing bowl mix together your flour, black pepper, and seasoning salt for the chicken.  In another bowl mix together the buttermilk, Louisiana Hot Sauce, and the eggs.
Lightly season the chicken on both sides with seasoning salt and black pepper. (If you're chicken breasts are thick slice them to where they are about the thickness of your hand.)
Heat about 2 inches of vegetable oil over medium high heat.  To check the heat sprinkle water in the grease; if it smokes it is too hot.  It should sizzle just a bit.
Dip the chicken in the egg wash and then into the flour mix.  Return the chicken to the egg wash and then again to the flour.  You can do this 3-4 pieces at a time.
Place chicken into the hot grease and cook for 4-5 minutes on each side.  Intermittently flip to ensure that chicken cooks evenly on both sides.  Chicken is finished when both sides are golden brown.
Remove chicken from the grease and place it onto a paper towel lined plate.  About this time your biscuits should be finishing up.  Rub the tops of your biscuits down with more butter.
Mix together the Tabasco and honey and douse your chicken and biscuits in it... Then ENJOY!
Notes
Biscuits can be frozen for up to a month.  Just add 5-10 minutes additional to the cooking time.
Courses Breakfast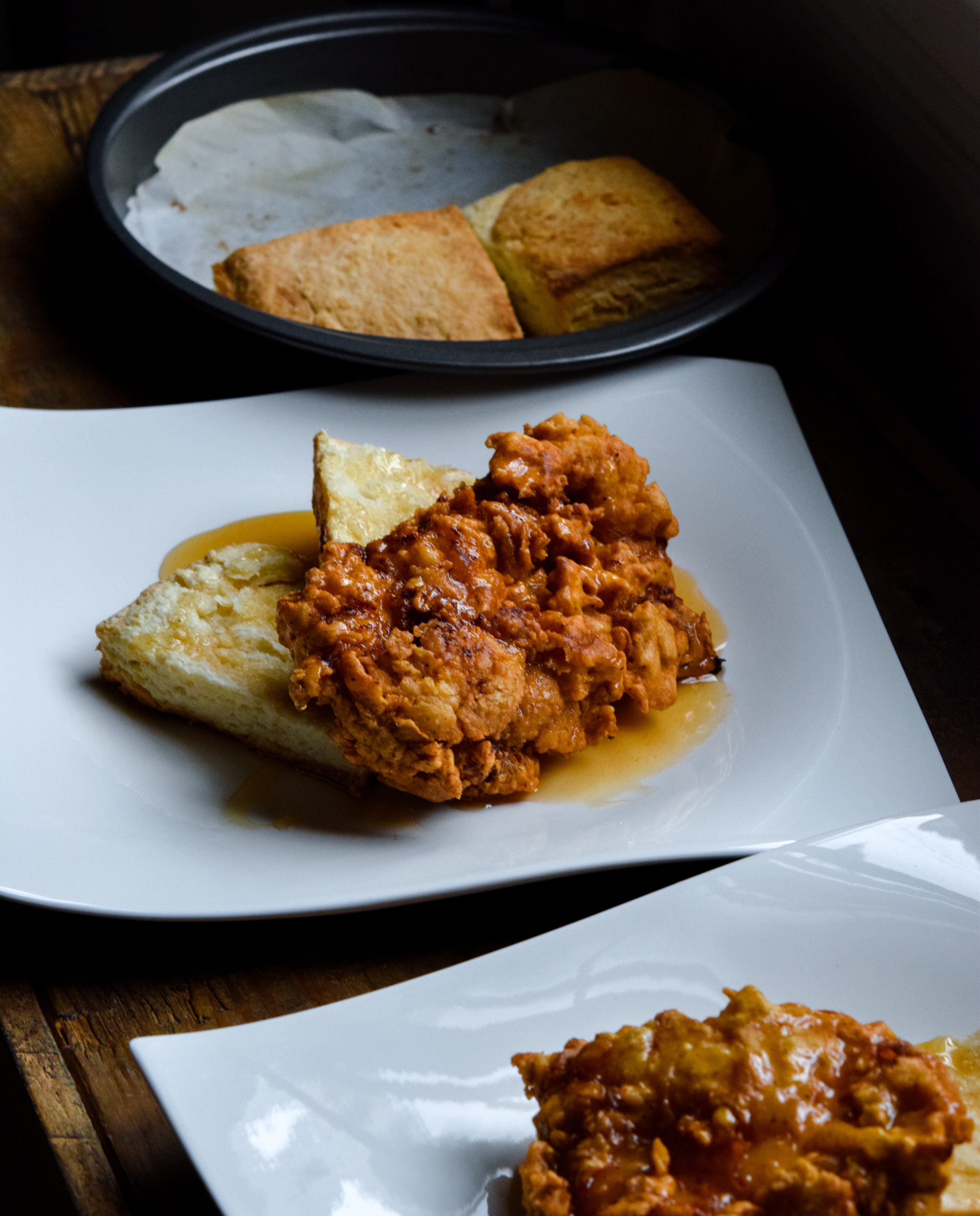 As always thank you for taking a few moments from your day to read over this and I hope that you are able to try this recipe sometime and that you enjoy it.  Feedback is always welcome and appreciated.
Have a blessed day,
Benjamin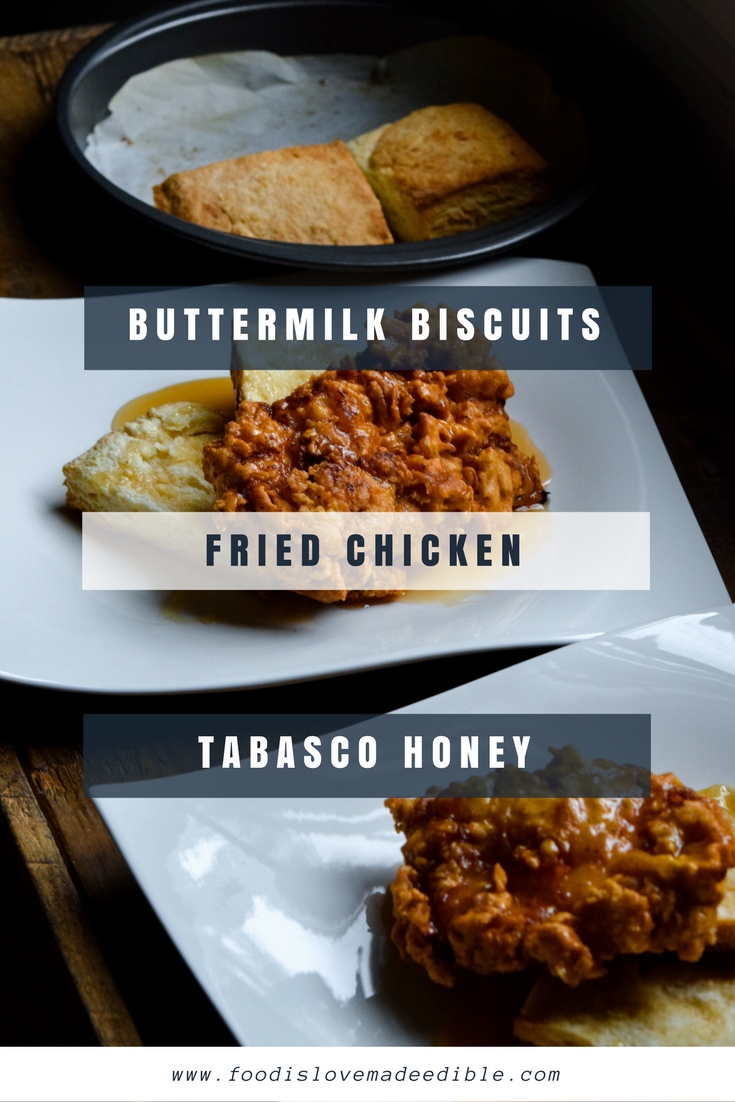 Black Food Bloggers Club's Black History Month Potluck
Apps/Small Dishes
Turkey Sausage Stuffed Collard Green Wraps – Beautiful Eats & Things
Fried Sweet Potato Hand Pie – Chef Kenneth
Lentil Soup and Roast Okra – My Life Runs On Food
Mains
Creole Seafood Courtbouillon – Beyond The Bayou Food Blog
Braised Short Rib Meatloaf – Cooks with Soul
Mofongo Relleno – Food Fidelity
Crawfish Etouffee – High Heels and Good Meals
Shrimp with Spicy Curry Cream Sauce – HomeMadeZagat
Bourbon Peach Glazed Salmon – Marisa Moore Nutrition
Carrot and Zucchini Noodles Stir Fry with Shrimp – Orchids + Sweet Tea
Creamy Fish Stew – Savory Spicerack
Smothered Turkey Wings – The Kitchenista Diaries
Honey Turmeric Skillet Chicken – The Seasoning Bottle
Vegetables/Sides
Corn Pudding – Better With Biscuits
Better than Jiffy Cornbread from Scratch – Brandi's Diary
Southern Style Mac and Cheese – Butter Be Ready
Pilau and Kachumbari (Spiced Rice with Pico) – Chocolate For Basil
Nigerian Jollof Rice – Dash of Jazz
Olive Oil Collard Greens – Eat.Drink.Frolic.
Orange Glazed Brussels Sprouts – Raised on Ramen
Desserts
Cinnamon Raisin Bread Pudding – D.M.R. Fine Foods
Fried Peach Hand Pies – Domestic Dee
Sweet Almond Tea Cakes – Houston Food Fetish
Candied Bourbon Peach Cobbler – Meiko and The Dish
Blackberry Cobbler – Simply LaKita
Orange Bundt Cake with Vanilla Glaze – The Hungry Hutch
Beverages
Pineapple Lemonade – In the Kitchen w/Kmarie
4