I first made this dish last year sometime last year and I really wasn't too much of a fan of it.  I had kind of set the recipe aside and then I saw a tweet from Nola.com about an amateur cooking competition where you could win your weight in shrimp from Rouses.   The competition calls for an original recipe that is centered around shrimp.  When I started thinking about what recipe I could enter into the competition I didn't think of this one at first, but when going through my older Instagram posts I saw the picture I posted of the first time I made prosciutto wrapped shrimp and I knew that this would be the right recipe to enter.
Summertime is BBQ and grilling time!  Sunny weekends are the perfect time to invite a bunch of friends and family member over and light up the grill.  The majority of our grills will be occupied with the usual burgers, sausages, and chicken wings.  If you're in Southern Louisiana you may get lucky and find some charbroiled oysters.  Make some room though!  Cause these prosciutto wrapped tequila lime shrimp need to find their way to your grill.  From the grill they should head over to the avocado crema for a quick dip and then straight to your mouth.
Like many of my recipes this one came from me walking through the grocery store and grabbing random ingredients.  I got a couple pounds of shrimp and then had to figure out what to do with them.  Bacon? No.  But, I want some bacon wrapped shrimp… What about prosciutto?  Yep! That sounds good.  Then of course I had to figure out what to season them with.  Remembering I had a bottle of tequila I figured why not grab a couple of lime and some cilantro and throw it all together in a marinade.  Over a couple iterations of making the dish I added ground coriander and red chili pepper flake and badaboom baba bam we had a winner!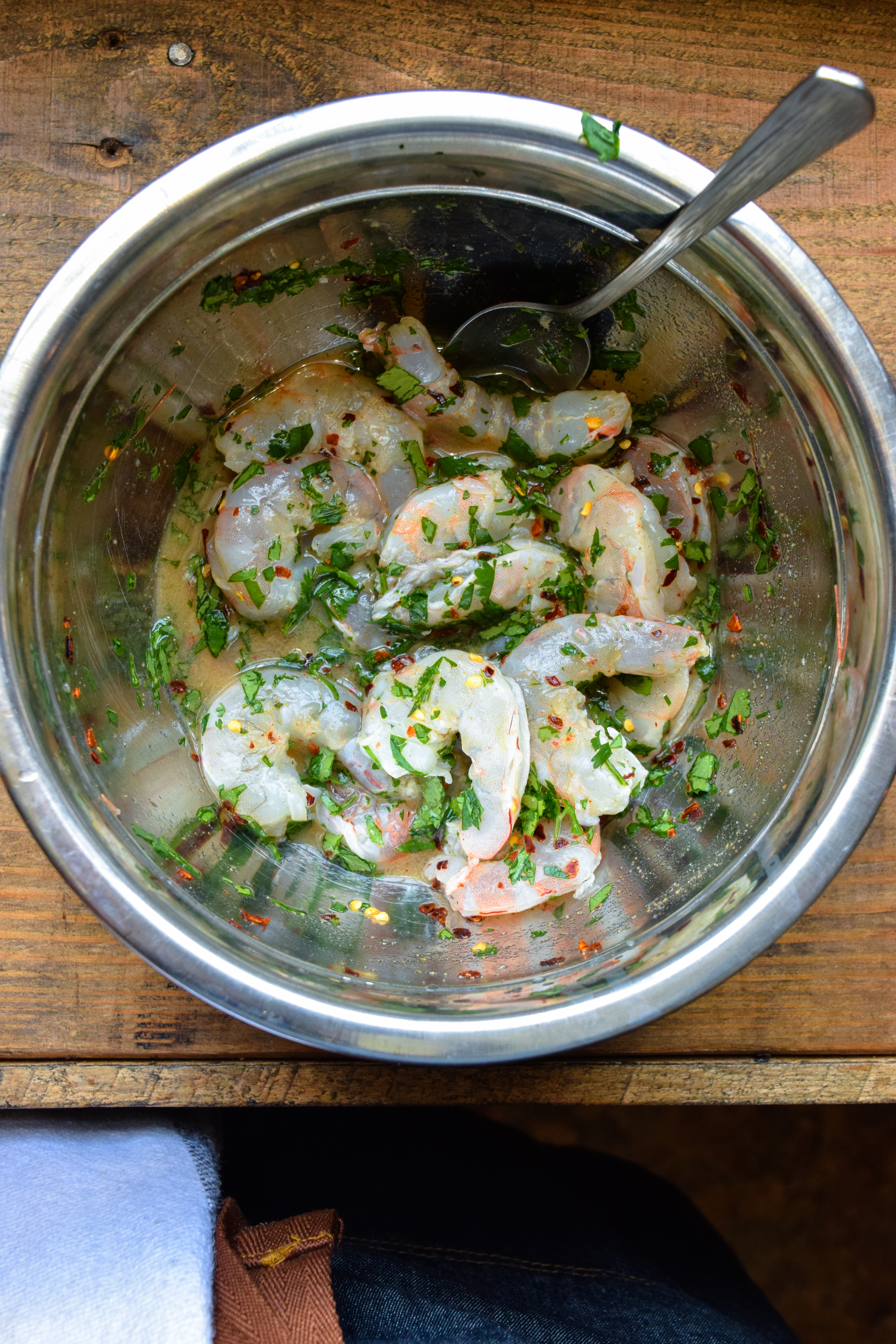 They're really not a winner until you wrap them in the prosciutto though.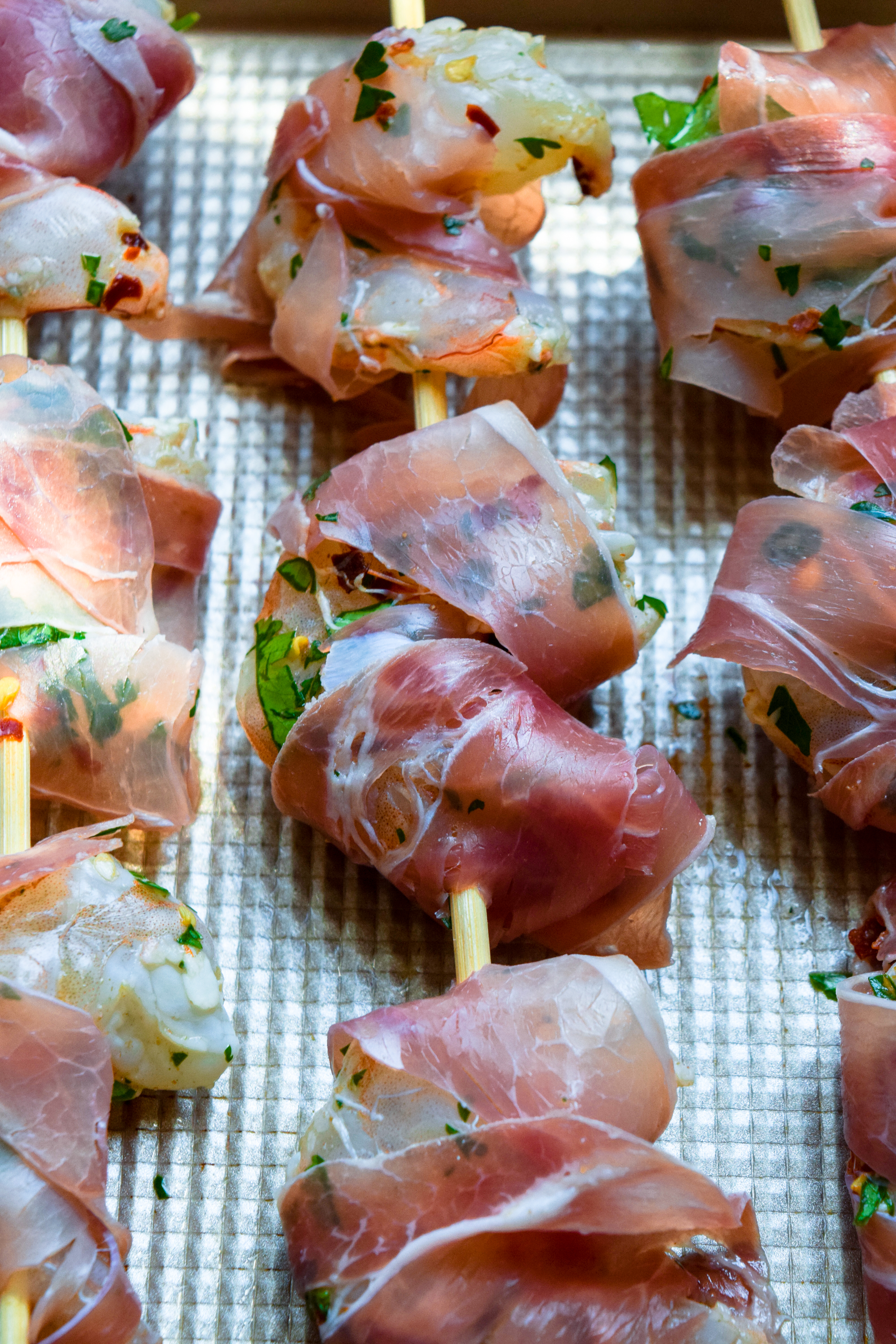 The first time that I made this dish I did it in my cast iron pan on the stove.  I ended up switching over to my charcoal grill outside in the yard and it made the texture of the prosciutto and shrimp much better, and it's really just easier to cook over an open flame (in my personal opinion).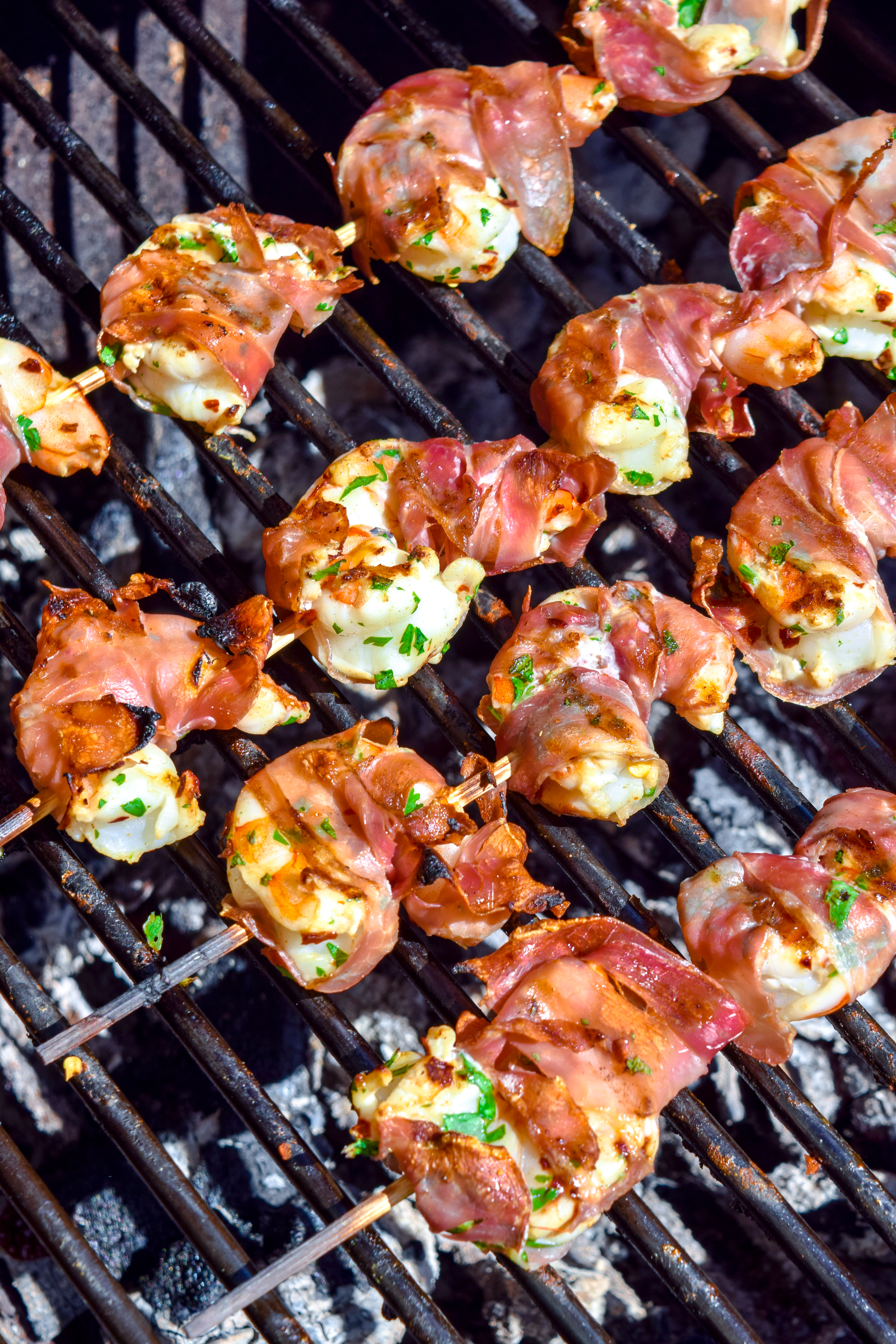 Thinking of what I could do to take the recipe to the next level my first thought was to come up with some sort of dipping sauce.  I wanted a light cool sauce that would compliment the heat and saltiness of the grilled prosciutto wrapped shrimp.  The first time that I made the avocado crema it was missing something.  I wasn't sure what it was, but something just wasn't there.  Then I added a blistered jalapeño to the mix and let me tell you what!  It was awesome!  I guarantee!  (Justin Wilson voice)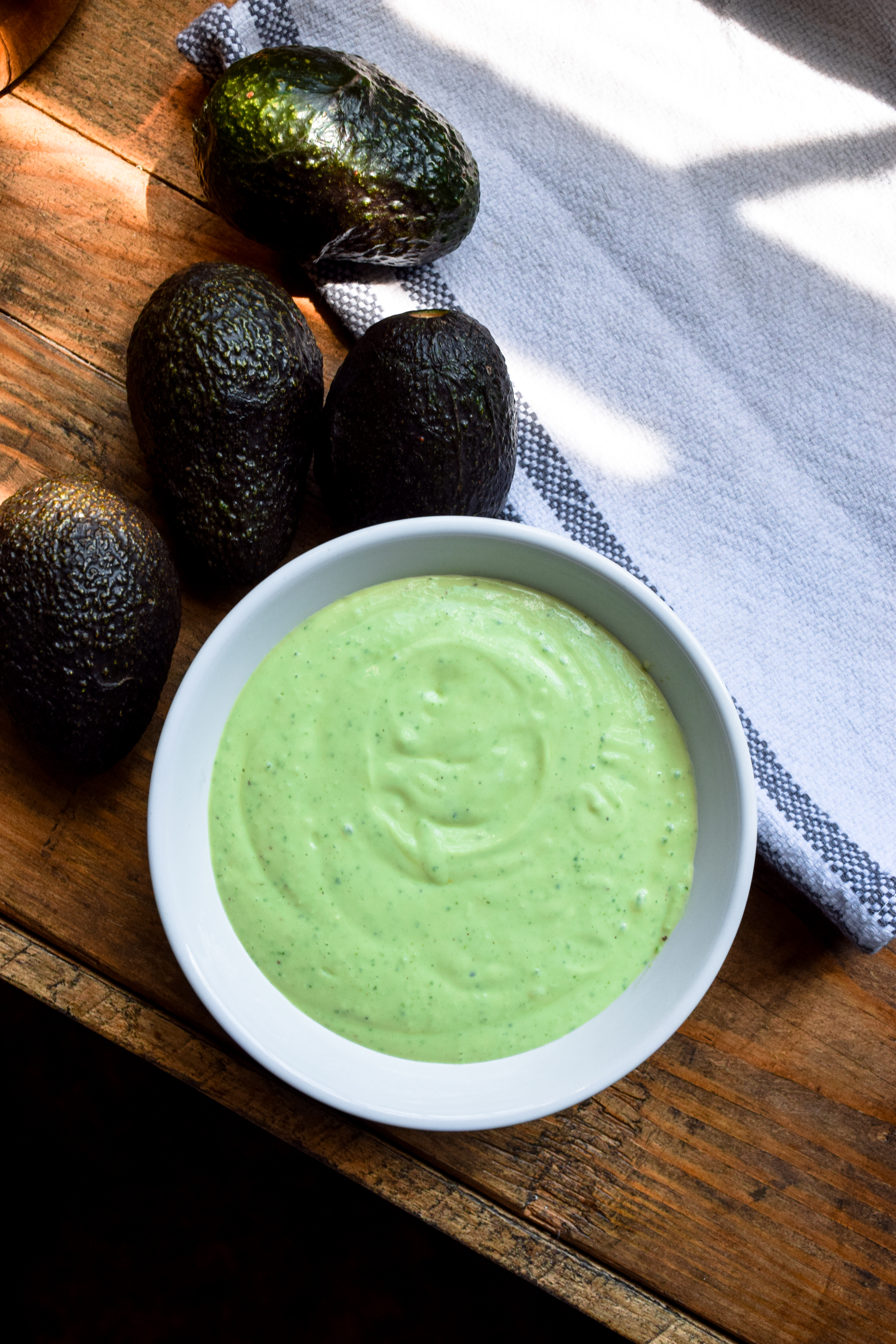 The crema goes great so many other things like chimicurri flank steak and salsa chips.
When you combine the prosciutto wrapped tequila lime shrimp with the avocado crema you get the perfect little bite!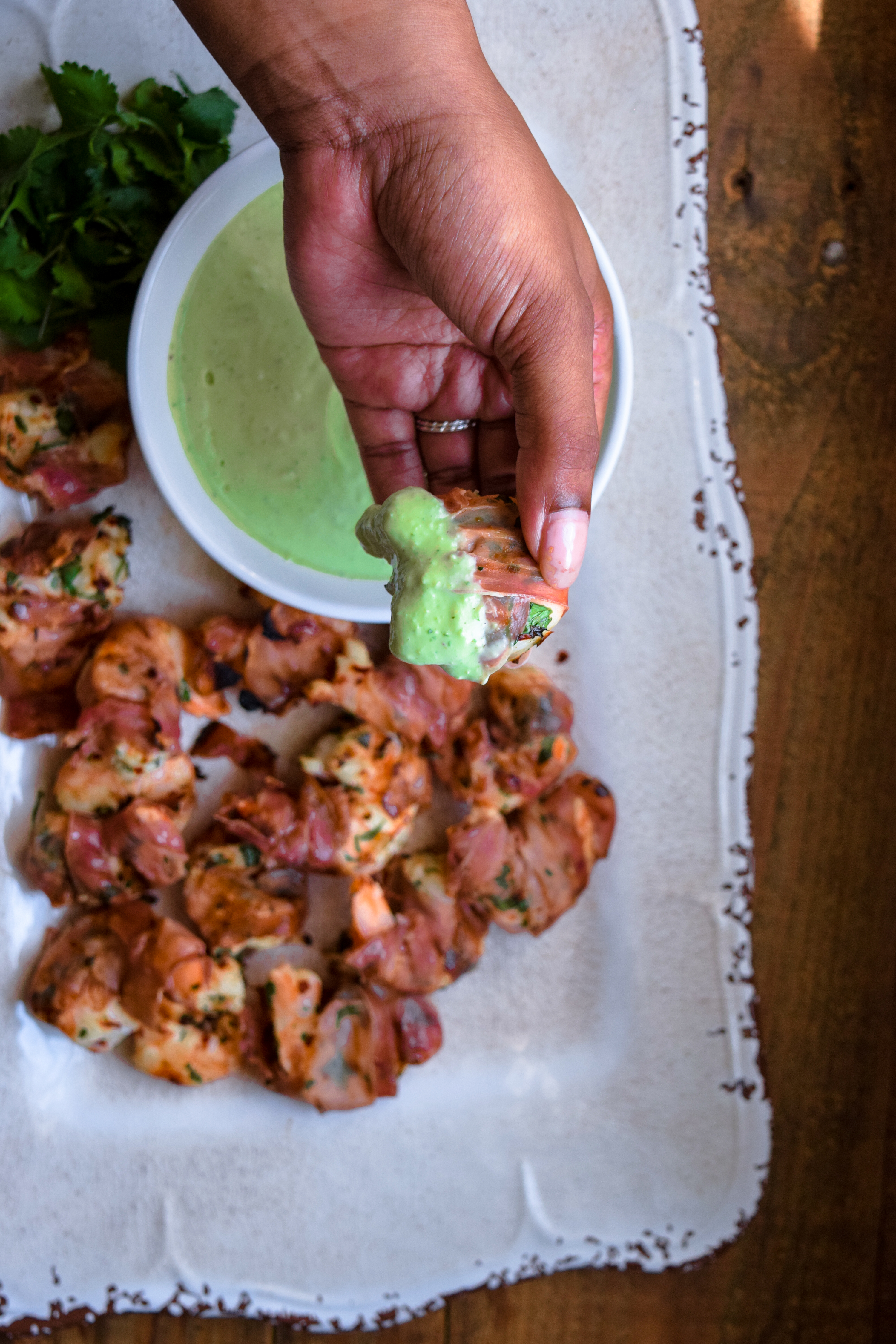 Prosciutto Wrapped Tequila Lime Shrimp with Avocado Crema
Ingredients
2 lb. jumbo shrimp, peeled and deveined
6 oz. Prosciutto
Juice of 3 limes
1/4 cup tequila
1 tbsp red chili pepper
1 tsp ground coriander
1/2 cup cilantro, minced
Avocado Crema
1 avocado
1 cup whole-milk Greek yogurt
Juice of 2 limes
1 jalapeño, blistered and seeds removed
1/4 cup cilantro
1 tsp salt
1/2 tsp black pepper
Instructions
If you buy whole shrimp remove the heads, peal the shrimp, and remove the back vein.
In a small bowl mix the shrimp together with the tequila, lime juice, coriander, red chili pepper, and cilantro.  Set the shrimp and let them marinade for about 20-30 minutes.  (During this time make the avocado creme, recipe below.)
Halve each of the pieces of the prosciutto longways and wrap each of the shrimp with one prosciutto half. 
Skewer 4 shrimp onto a skewer.  Repeat until you have skewered all the shrimp.
Heat your grill to high heat.  (I get my charcoal grill to about 400F.)
Place the shrimp skewers onto the grill directly over the heat source and cook for about 10 minutes.  Flipping the skewers every couple of minutes.  Once the shrimp are firm and the prosciutto has become crispy they are done.
Avocado Crema
Blister the jalapeño.  This can be done over an open flame such as a gas stovetop, grill, or in the oven.
Slice the jalapeño in half and remove the seeds.
In a food processor mix together all of the ingredients until smooth.
It's as simple as that.  Enjoy!
Notes
You can make this recipe on the stove in a pan (preferably cast iron) over medium high heat.  There's no need to skewer the shrimp to cook them in a pan.
Courses Appetizer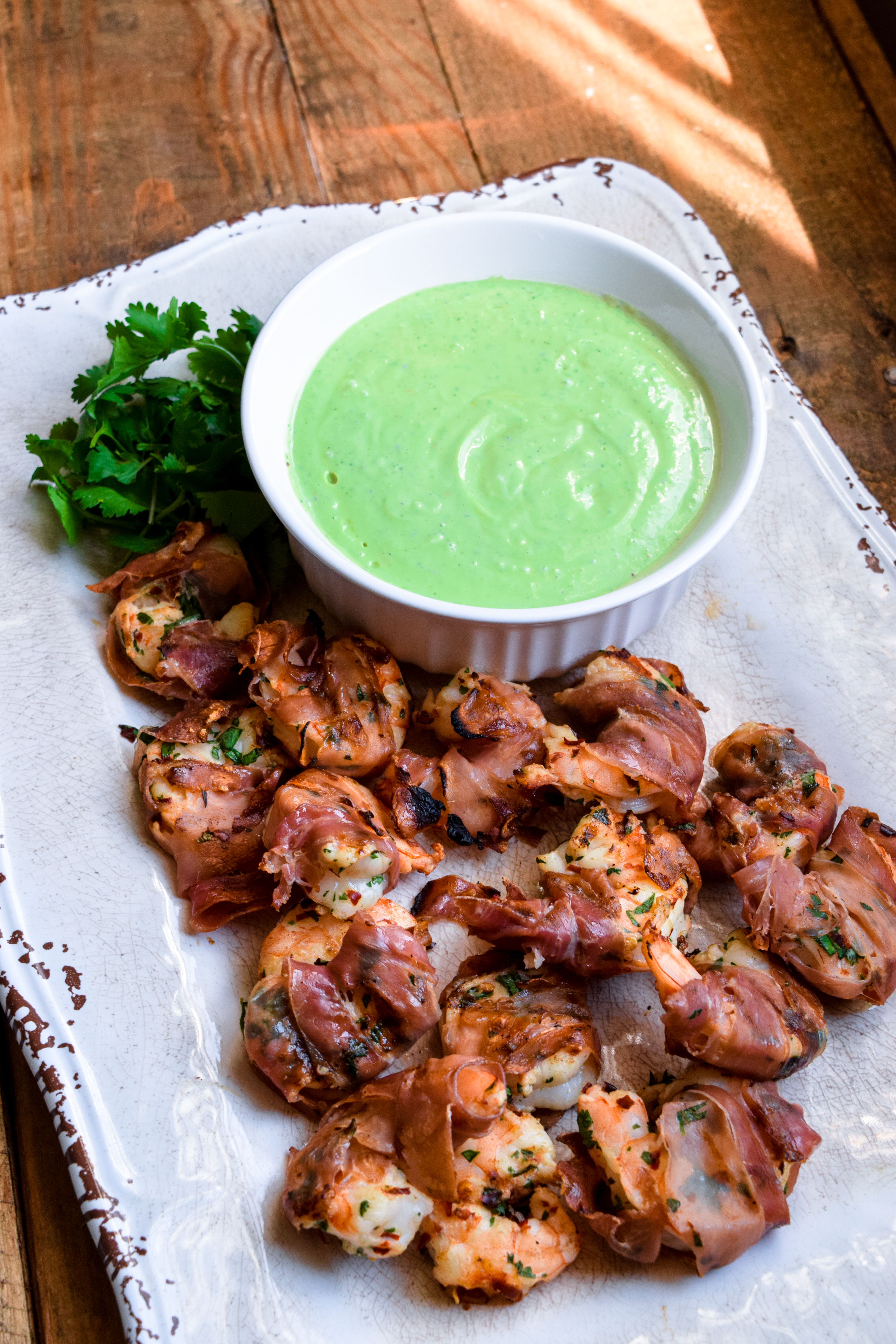 As always thank you for taking a few moments from your day to read over this and I hope that you are able to try this recipe sometime and that you enjoy it.  Feedback is always welcome and appreciated.
Have a blessed day,
Benjamin